Thank you for expressing an interest in working at Bulmer Farms, a large vegetable grower located in Lindenow, East Gippsland. See below for available positions.
Harvest Operations Manager – Full Time
Bulmer Farms is seeking suitably qualified candidates for a Harvest Operations Manager.
The role of Harvest Operations Manager requires harvesting product in a timely and efficient manner; optimising the productive and operational performance of the harvest teams. Above all, you need to have a feeling for forecasting crops to harvest, great planning, effective trouble shooting and communication skills.

Key skills and attributes
Extensive experience in horticulture preferably vegetables with a focus on salad lines.
Mid-level supervisory skills (previous experience in this area is an advantage)
Excellent communication skills
Strong planning and organisation skills
Ability to deal with a diverse range of people in a professional and courteous manner
Proven experience working in a close team environment to achieve goals
Ability to achieve required results for the business, at times under adverse weather conditions
Key responsibilities
Forecast daily harvest requirements to meet supply contract commitments
Conduct pre-harvest checks for all crops – reporting any foreign body risk or potential quality issues
Provide yield estimate reports prior to harvest of crops
Analyse harvest costs and efficiencies.
Support Harvest Supervisors to achieve an efficient harvest and ensure the safe delivery of quality product from the paddock to the Pack House.
Qualifications and / or experience
Horticulture growing and harvesting management
Forklift license
HC or Multi Combination Truck License
Safe Food Handling Skills
For further information and a full position description, please send an email to: HR@bulmerfarms.com.au
Production Horticulture Traineeship 2019 – Full Time
Bulmer Farms is large vegetable producer in East Gippsland, delivering high quality, fresh produce to domestic markets and food producers. We are seeking suitable candidates for a Horticulture Apprenticeship.
This wonderful opportunity offers long term career growth for someone with a genuine passion for farming and the outdoors.
We are seeking someone with an aptitude for study, a willingness to learn, improve and take direction. They must also have good communication skills and take pride in their work.
Warehouse Distribution Traineeship 2019 – Full Time
Bulmer Farms is a well established, highly respected family business that specialise in the growing and distribution of farm fresh salad vegetables. As leaders in our field, we have a well established Traineeship Program which offers new employees the opportunity to develop highly sought after skills and knowledge whilst gaining a Nationally recognised qualification while earning a weekly wage.
Trainees have the opportunity to utilise the skills and knowledge they gain during their Traineeship to progress upwards in the business once completing their qualification.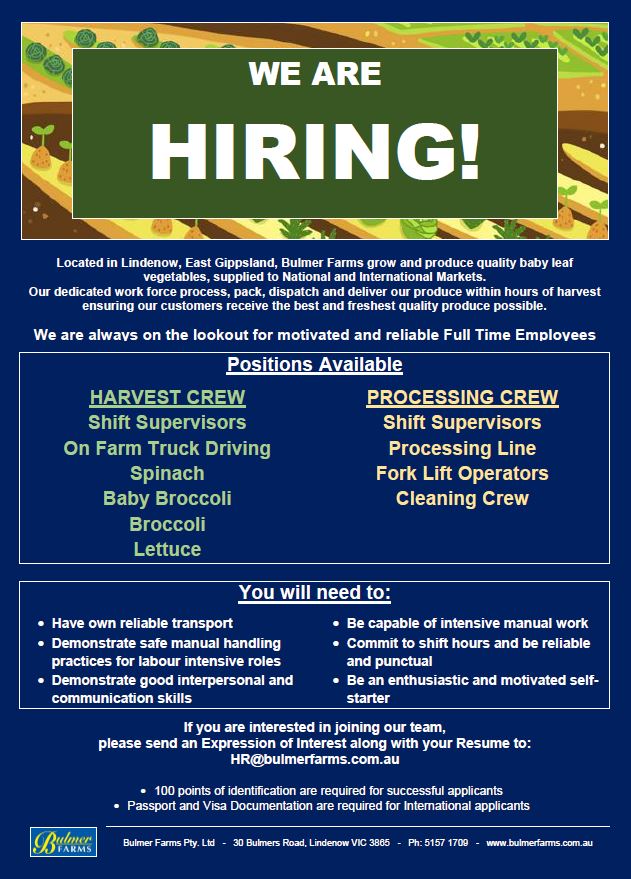 IMPORTANT INFORMATION FOR ALL APPLICANTS
To request a Position Description, please send an email to: HR@bulmerfarms.com.au, or via the Contact us section of our website.
You can also phone the Administration Office on: (03) 5157-1709 during business hours 8am – 4pm Monday to Friday.
When applying for a position at Bulmer Farms, it is important to fully read the Position Description and follow the application process as advised. You will need to provide us with:
A Cover Letter outlining your interest in applying for the position, addressing the key selection criteria of the Position Description.
A full, up to date copy of your Resume / CV, including contact details of three (3) references.
If these requirements are not completed, your application may not be considered.