Thank you for expressing an interest in working at Bulmer Farms, a large vegetable grower located in Lindenow, East Gippsland. See below for available positions.
Finance Officer
Bulmer Farms located in Lindenow is seeking an experienced Finance Officer on a part-time basis. Reporting to the Financial Controller, the Finance officer will be responsible for the accurate day to day data entry and reconciliation for debtors, creditors and bank accounts within this family business.
Your key responsibilities will include but not limited to:
Debtor control, ensuring that all customers stay within defined credit limits and payment terms
Accurately respond to customer credit requests and sales adjustments
Ensure timely internal approval of credit requests and sales adjustments are completed
Action approved credit and sales adjustments from customers
Accurately allocate EFT and cheque payments from customers
Assist with the completion of the weekly cash flow report and report to Financial Controller
Assist with creditor data entry
Prepare weekly creditor payment report and process electronic payment run
Our ideal candidate will have:
A minimum of 5 years bookkeeping or accounting experience
Excellent reconciliation skills
Excellent verbal and written communication skills
The ability to form strong working relationships with colleagues, customers and suppliers
High level computer literacy including advanced experience in the use of computer applications, particularly Windows and Microsoft products – Excel, Word
For further information and a full position description, please send an email to: HR@bulmerfarms.com.au
Production Horticulture Traineeship 2019 – Full Time
Bulmer Farms is large vegetable producer in East Gippsland, delivering high quality, fresh produce to domestic markets and food producers. We are seeking suitable candidates for a Horticulture Apprenticeship.
This wonderful opportunity offers long term career growth for someone with a genuine passion for farming and the outdoors.
We are seeking someone with an aptitude for study, a willingness to learn, improve and take direction. They must also have good communication skills and take pride in their work.
Warehouse Distribution Traineeship 2019 – Full Time
Bulmer Farms is a well established, highly respected family business that specialise in the growing and distribution of farm fresh salad vegetables. As leaders in our field, we have a well established Traineeship Program which offers new employees the opportunity to develop highly sought after skills and knowledge whilst gaining a Nationally recognised qualification while earning a weekly wage.
Trainees have the opportunity to utilise the skills and knowledge they gain during their Traineeship to progress upwards in the business once completing their qualification.
Harvest & Processing Workers – Full Time
Bulmer Farms, one of Australia's leading vegetable growers, located in the Lindenow Valley in East-Gippsland, is seeking 30 harvest and processing workers on a fulltime basis (38 hours/ week) to assist with the daily operations.
Pay rates and conditions follow the Horticulture Award 2010. Work is available from September 2019 and you must commit to this role for at least 12 months.
Duties & Responsibilities as Harvest Worker (20 vacancies)
Cutting, picking or machine harvesting of vegetables in a safe and efficient manner, ensuring productivity and quality goals are met
Understand and adhere to all food safety practices and Good Agricultural Practices (GAP)
Care for crops, including pinching, as required by Harvest Supervisor
Safely and responsibly use any equipment, including knives and harvest machinery, provided by Bulmer Farms
Duties & Responsibilities as Processing Worker (10 vacancies)
Completing a range of duties in the Processing crew, including box making, packing, stacking and operating the wash line machinery, in a safe and efficient matter, ensuring productivity and quality goals are met
Understand and adhere to all food safety practices and Good Agricultural Practices (GAP)
Safely and responsibly use any equipment, including knives and machinery, provided by Bulmer Farms
The roles are physically demanding and require you to be able to stand on your feet for long periods of time. Most of the work is repetitive and requires manual handling. You may be required to undergo a medical check and drug/alcohol tests prior to commencement.
Selection Criteria
Be fit and healthy, with good flexibility
Ability to stand and bend over for long periods of time
Ability to follow instructions and learn and apply new processes quickly
Ability to work in a team environment
Demonstrate good communication skills
Ability to work night shifts and work in all temperatures and weather conditions
Ability to follow quality assurance processes
Strong work ethic and punctuality with reliable transport to get to your shifts
Applications must address the selection criteria and all claims against the selection criteria must be substantiated. Any application that fails to do so will not be considered.
Applicants from outside the Bairnsdale area must demonstrate a commitment to moving to and living in Bairnsdale for the period of employment.
If you are interested in joining our team, please send an expression of interest along with your resume to: hr@bulmerfarms.com.au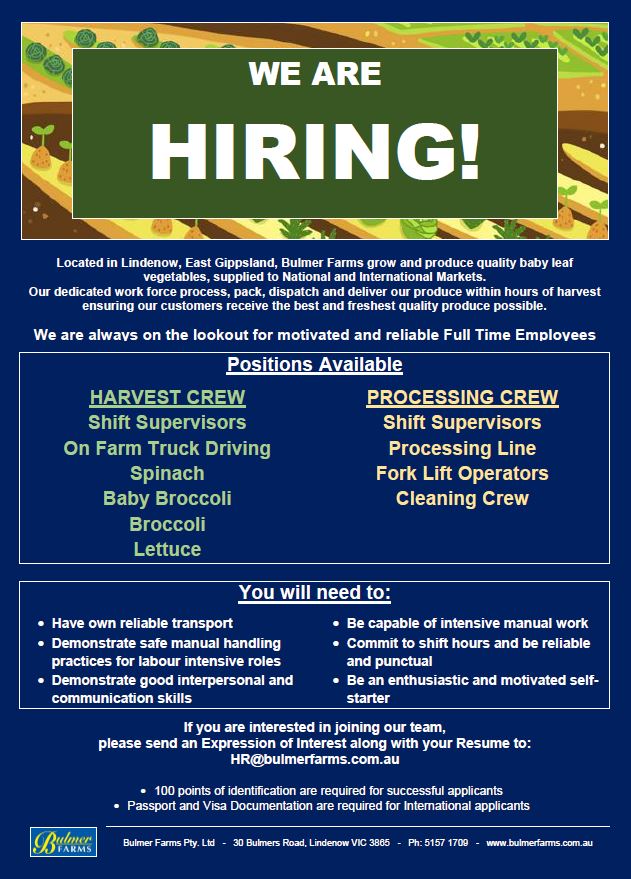 IMPORTANT INFORMATION FOR ALL APPLICANTS
To request a Position Description, please send an email to: HR@bulmerfarms.com.au, or via the Contact us section of our website.
You can also phone the Administration Office on: (03) 5157-1709 during business hours 8am – 4pm Monday to Friday.
When applying for a position at Bulmer Farms, it is important to fully read the Position Description and follow the application process as advised. You will need to provide us with:
A Cover Letter outlining your interest in applying for the position, addressing the key selection criteria of the Position Description.
A full, up to date copy of your Resume / CV, including contact details of three (3) references.
If these requirements are not completed, your application may not be considered.