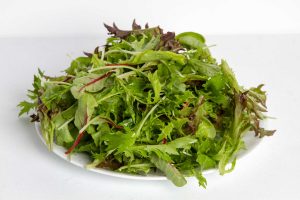 Bulmer Farms grows 13 varieties of baby leaf. Amaranth, Red & Green Chard, Cress, Endive, Red & Green Coral, Red & Green Oak, Mizuna, Radicchino, Tatsoi & Rocket
Amaranth
Eat young leaves of the amaranth variety. Beautiful in salads or tasty as cooking greens.
Endive
The unique oval shape, soft satin texture with a slight bitterness taste. Scoop like shape perfect for appetizers.
Radicchino
Deep red purple vegetable. When cooked it turns brown and what was once bitter turns sweet.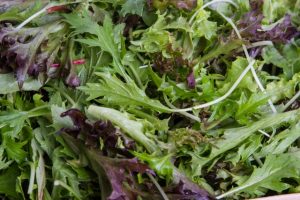 Mizuna
Japanese mustard green that is generally sold as part of a salad mix. Mizuna has a strong pungent flavour however it won't overpower a dish.
Red & Green Oak
Loose leaf lettuce shaped like oak leaves hence the name. Oak leaf lettuce is shorter and squatter. The tops of their leaves have a softer texture and won't compete for flavour.
Cress
Is a fast growing edible herb. It has a strong peppery, tangy flavour and aroma.
Rocket
Is a well-known variety that forms the basis of many a salad. Rocket has a peppery taste as opposed to a bitter taste and is associated with dishes like pesto.
Red & Green Chard
Is a leafy green, both stalk and leaves are edible. Chard has a mild spinach earthy like flavour.
Red & Green Coral
Tightly crinkled leaves resembling coral. Soft delicate leaves with a mild slightly bitter taste.
Tatsoi
Also commonly known as spinach mustard or spoon mustard is a flat forming Chinese cabbage. It has a buttery, tender and succulent texture. It is generally eaten raw in salads but can be cooked.
Here are some of Bulmer Farms favourite Baby Leaf recipes.
Baby Leaf should have crisp leaves and vibrant colour and break up easily to form baby salad leaves. Store in fridge crisper, wrap loosely in a plastic bag to prevent evaporation of moisture and keep leaves fresh. Red Coral, Green Coral, Red Oak and Green Oak are planted via transplanted seedlings and usually harvested by hand. The rest of the varieties are planted via a tractor seeder and harvested by machine. They are then transported to the pack shed to be vacuum cooled, put through the cold wash, spun, packed into packaging and stored in the cool room ready for transport.