TO PREP 3:45 hours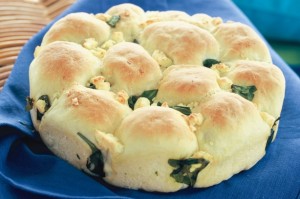 TO COOK 30 minutes
HOW EASY? Medium
SERVES 6
RATING *****
Recipe by Alison Roberts.
INGREDIENTS
3 cups plain flour
1 teaspoon caster sugar
1 teaspoon salt
7g sachet dried yeast
¾ cup milk, at room temperature
½ cup lukewarm water
1 tablespoon olive oil
50g English spinach leaves
150g feta cheese, crumbled
METHOD
Combine flour, sugar, salt and yeast in a large bowl. Add milk, water and oil. Mix to form a soft dough. Turn onto a floured surface. Knead for 10 minutes or until smooth. Place into a lightly oiled bowl. Cover with plastic wrap and clean tea towel. Set aside in a warm, draught-free place for 1 ½ to 2 hours or until dough has doubled in size.
Lightly grease and line a 23cm (bas) cake pan. Punch dough down to its original size. Knead on a floured surface until smooth. Divide dough into 12 portions.
Divide spinach into 13 portions. Set 1 portion of each aside. Press each round of dough into an 11cm (diameter) circle. Place 1 portion of spinach and fetta onto each circle of dough. Fold dough in. Shape each dough portion into a ball.
Arrange balls over base of prepared pan. Press reserved spinach and feta into gaps between dough balls. Cover with a tea towel. Set aside for 30 minutes or until dough has risen slightly.
Preheat oven to 180 degree. Bake for 30 minutes or until golden. Serve warm or at room temperature.