TO PREP 15 minutes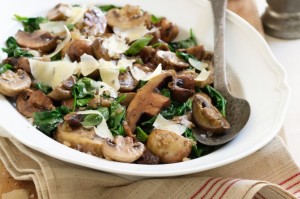 TO COOK 20 minutes
HOW EASY? Easy…
SERVES8
RATING *****
For something different serve your guest's sautéed mushrooms with baby spinach and basil. Recipe by Curtis Stone.
INGREDIENTS
3 tablespoons olive oil
2/3 cup onion, diced
4 garlic cloves, crushed
450g Swiss brown mushrooms, halved
450g Portobello mushrooms, dark gills scraped clean, caps cut into 1cm thick slices
120g (about 4 cups) fresh baby spinach
½ cup fresh basil leaves, coarsely torn
¼ cup parmesan cheese, shaved
METHOD
Heat the oil in a large frying pan with high sides over medium heat.
Add the onion and garlic and sauté for 3 minutes, or until translucent.
Add the mushrooms, sauté stirring occasionally for 15 minutes or until the mushrooms are tender and have shed most of their liquid. (The mushrooms will fill the entire pan but wills shrink considerably as they cook).
Add the baby spinach and basil and toss until the spinach and basil slightly wilt and cook for 2 minutes,
Season to taste with salt and pepper and remove from the heat.
Transfer the mushroom mixture to a large serving platter.
Sprinkle the parmesan over the mushrooms and serve immediately.