TO PREP 25 minutes
TO COOK 10 minutes
HOW EASY? Medium…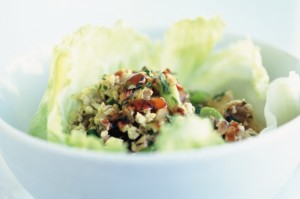 SERVES4
RATING *****
Recipe by Valli Little
INGREDIENTS
4 dried Chinese mushrooms
1 tablespoon peanut oil
1 small onion, chopped
½ tablespoon grated fresh ginger
2 garlic cloves, crushed
300g chicken mince
6 shallots, finely chopped
2 tablespoons oyster sauce, plus extra to drizzle
2 tablespoons soy sauce
2 tablespoons fresh lime juice
½ cup chopped coriander leaves
8-12 large iceberg lettuce leaves, to serve
METHOD
Place the dried mushrooms in a bowl with ½ cup boiling water. Set aside for 15 minutes to soak. Drain, discarding soaking liquid, and finely chop the mushrooms.
Heat oil in a wok over medium-high heat. Add the onion and cook for 1-2 minutes, then add the mushrooms, ginger and garlic and cook for a further minute.
Add the chicken mince and continue tossing in the wok until the chicken is cooked through. Add the shallots, oyster sauce, soy sauce and lime juice, and cook for a further 2 minutes until the sauces are combined. Remove from heat and stir in the coriander leaves, before serving in the lettuce leaves.
Drizzle with a little more oyster sauce and serve immediately.