TO PREP 25 minutes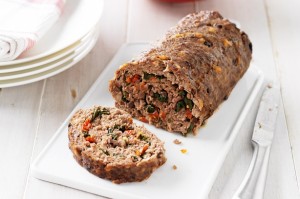 TO COOK 1:05 hours
HOW EASY? Easy…
SERVES 4
RATING *****
A yummy filling recipe for the whole family. Recipe by Lucy Nunes at www.taste.com.au.
INGREDIENTS
1 tablespoon olive oil
1 large brown onion, grated
4 garlic cloves, crushed
200g baby spinach
1kg beef mince
2 tablespoons tomato sauce
1 tablespoon Worcestershire sauce
1 egg, lightly beaten
2 ½ cups fresh breadcrumbs
1/3 cup finely grated parmesan cheese
1/3 cup chopped semi-dried tomatoes
Salad leaves to serve
METHOD
Pre-heat the oven to 180 degrees or 160 degrees if fan-forced. Line a large, 1cm deep baking tray with baking paper.
Heat oil in a frying pan over medium heat. Cook onion and garlic, stirring for 3 to 4 minutes or until softened. Set aside to cool completely.
Place spinach in a microwave-safe container. Microwave, covered on HIGH (100%) for 1 minute or until wilted. Set aside to cool completely. Squeeze out excess liquid.
Place mince, onion mixture, tomato sauce, Worcestershire sauce, egg, breadcrumbs and parmesan into a bowl. Season with salt and pepper. Mix to combine. Place in a 30x50xm piece of baking paper on a flat surface. Spoon over mince mixture. Press into a 27cm x 40cm rectangle. Top mince mixture with spinach, followed by tomato. Starting at 1 short side, use baking paper as a guide to roll up like a Swiss roll.
Place on prepared tray. Smooth ends to enclose filling. Bake for 50 minutes to 1 hour or until meatloaf is firm to touch and cooked through. Stand for 10 minutes. Serve the meatloaf sliced with salad. Cover and refrigerate remaining meatloaf.