TO PREP 20 minutes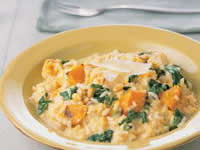 TO COOK 25 minutes
HOW EASY? Medium…
SERVES 4
RATING *****
A yummy filling recipe for the whole family. Recipe by Australian Woman's weekly.
INGREDIENTS
500g butternut pumpkin, chopped
2 tablespoons olive oil
375ml chicken or vegetable stock
1.25 litres (5 cups) water
1 large (200g) brown onion, chopped coarsely
2 cloves garlic, crushed
2 cups (400g) Arborio rice
½ cup (125ml) dry white wine
500g English spinach, trimmed, chopped coarsely
½ cup (80g) pine nuts, toasted
½ cup (40g) grated parmesan cheese
½ cup (125ml) cream
Salt and freshly ground pepper
METHOD
Pre-heat the oven to 220 degrees. Combine the pumpkin with half the oil in a baking pan. Bake, uncovered for about 20 minutes or until tender.
Meanwhile, combine the stock and water in a large saucepan. Bring to the boil then simmer.
Heat the remaining oil in a large saucepan; cook the onion and garlic until the garlic is soft. Add rice; stir to coat in oil mixture. Add the wine and stir until almost evaporated.
Stir in 1 cup (250ml) of the hot stock mixture. Continue stirring over a low heat until the liquid is absorbed. Continue adding the stock mixture slowly in 1 cup batches again stirring until the liquid is absorbed after each addition. Total cooking time should be about 25 minutes or until the rice is just tender.
Add the spinach, pine nuts, cheese, cream and salt and pepper to taste; cook, stirring until the spinach is wilted. Gently stir in the pumpkin
Serve topped with extra parmesan cheese flakes if desired