TO PREP 15 minutes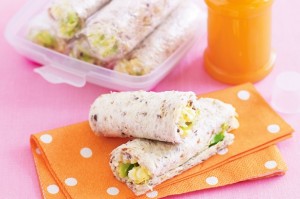 HOW EASY? Super Easy
SERVES 4
RATING ****
Simple to make and delicious to eat, these egg rolls are the perfect finger food. Recipe by Vanessa Horton.
INGREDIENTS
4 hardboiled eggs, peeled
2 tablespoons whole egg mayonnaise
8 large slices of multigrain bread
2 cups finely shredded iceberg lettuce
METHOD
Roughly chop eggs. Place in a bowl. Add mayonnaise and salt and pepper. Mash with a fork to combine.
Remove crusts from bread. Using a rolling pin, flatten bread slightly. Spread 1 ½ tablespoons of egg mixture over each slice of bread, leaving a 1cm boarder at 1 end. Top with lettuce. Roll up from opposite end to enclose filling. Wrap in plastic wrap. Refrigerate.