TO PREP 25 minutes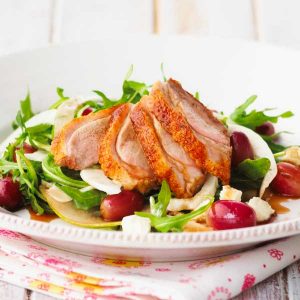 TO COOK 20 minutes
HOW EASY? Medium…
SERVES 2
LUV RATING *****
An elegant recipe for any dinner party. Recipe by Queensland chef and presenter Jeff Chadburn.
INGREDIENTS
2 duck breasts
2 large waxy potatoes, grated
1 small onion, finely chopped
1 tsp plain flour
Salt and pepper
1 tbsp butter
1 tbsp oil
1 bunch English spinach leaves
1 tsp olive oil
50g white sugar
300ml Pinot or other good red wine
METHOD
Pre-heat oven to 190C.
Sear breasts skin side down in a hot pan for about 4 minutes or until golden brown, then sear quickly on meat side.  Place in oven for 7 minutes (for medium rare).  Once cooked set aside to rest in a warm plate.
Squeeze grated potato to remove most of the liquid.  Place in a bowl, add onion, flour salt and pepper.  Heat oil and butter in a pan and add about 3 tablespoons of potato. Flatten and cook on both sides until golden and crisp.  Drain all cakes on paper towel and keep warm.
Wash spinach several times in cold water.  Add olive oil to pan and saute until just wilted. Keep warm.
Add sugar to a saucepan and caramelise over a high heat.  Pour the wine carefully into pan. Be careful because this will bubble up.  Stir until sugar dissolves and simmer until the sauce reduces by half.
On a warmed plate place potato cake in middle, top with spinach, then another cake with more spinach.  Place several slices on breast on top and drizzle sauce around plate.
CHEF'S TIPS
The potato cakes can be pre-made and reheated when needed