TO PREP 5 minutes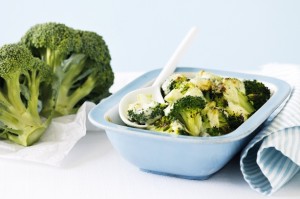 TO COOK 20 minutes
HOW EASY? Easy
SERVES 4
RATING*****
There is a lot more than meets the eye to tree like broccoli. It's a powerhouse of nutrients that can be steamed, stir-fried or even pureed into soup. Try it in this cheesy side. Recipe by Gemma Luongo
INGREDIENTS
600g broccoli, broken into florets, stems cut into 1cm thick matchsticks
40g butter
2 tablespoons plain flour
375cm (1 ½ cups) reduced fat milk
pinch of ground nutmeg
white pepper
50g blue cheese
METHOD
Preheat oven to 200 degrees. Bring a medium saucepan of water to the boil. Cook the broccoli florets and stems for 2 minutes. Drain. Place the broccoli in a 1.5L capacity baking dish. Wipe pan dry.
Melt the butter in the pan over medium heat. Add the flour and cook, stirring, for 30 seconds or until the mixture begins to bubble. Remove from heat. Gradually add the milk, whisking until smooth. Return to heat. Cook, stirring, for 3-4 minutes or until the sauce thickens and comes to the boil. Stir in the nutmeg, ¾ blue cheese and season with salt and pepper.
Pour the sauce over the broccoli. Top with the remaining blue cheese and bake in the oven for 10 minutes or until the cheese melts.