TO PREP15 minutes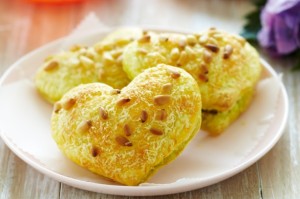 TO COOK 15 minutes
HOW EASY?Easy…
SERVES 4
RATING ****
Celebrate every day in a special way with these easy spinach and cheese tarts. Recipe by Michelle Noerianto
INGREDIENTS
4 Sheets butter puff pastry, partially thawed
150g tub baby spinach with cashew and parmesan dip
100g baby spinach, finely chopped
1/3 cup grated parmesan
4 tablespoons toasted pine nuts
METHOD
Pre-heat the oven to 200 Degrees/ 180 degrees for fan forced. Line 2 large baking trays with baking paper. Using a circle shaped cutter, cut 16 circles from pastry sheets.
Place 1 circle on a flat surface. Leaving a 1cm border, spread with 2 teaspoons of dip and a small topping of finely chopped spinach and pine nuts. Top with the 1 pastry circle. Pinch the edge to seal. Place on 1 prepared baking tray. Repeat with remaining circles and spinach dip.
Sprinkle circles with parmesan and pine nuts. Bake for 12 to 15 minutes or until golden and puffed. Serve.