TO PREP 10 minutes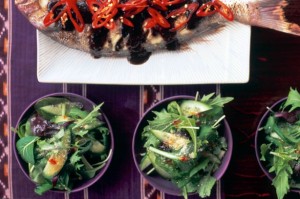 TO COOK 10 minutes
HOW EASY? Easy
SERVES 8
RATING *****
Drizzle Asian greens with sweet chilli dressing for a side with a difference. Recipe by Rodney Dunn
INGREDIENTS
1 tablespoon jasmine rice
200g baby leaf salad mix
1 Lebanese cucumber, halved lengthways, thinly sliced diagonally
1 bunch fresh coriander, leaves picked

SWEET CHILLI DRESSING
1 tablespoon sweet chilli sauce
1 tablespoon rice vinegar
1 tablespoon fish sauce
2 tablespoons vegetable oil
METHOD
To make the dressing, combine the sweet chilli sauce, vinegar, fish sauce and oil in a small bowl. Set aside until required.
Heat a small frying pan over medium heat. Add the rice and cook, stirring for 8 minutes or until golden brown. Remove from heat and set aside for 10 minutes to cool. Transfer to a mortar and pound with a pestle until rice is coarsely ground.
Place Asian greens, cucumber and coriander in a large bowl and toss until combined. Divide among serving bowls. Drizzle with dressing and sprinkle with ground rice. Serve immediately.