Iceberg lettuce is the most popular lettuce in Australia with a mild refreshing flavour. It usually has a height and spread of around 15 to 30cm with a round dense head, medium to light green leaves that blend to almost white ribs with a crispy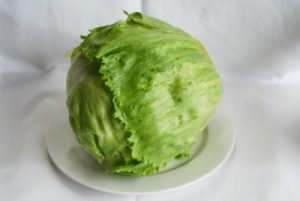 texture.
Iceberg lettuce can be served a few ways they include in wraps, coleslaw, sandwiches, soups, and salads as well as Asian inspired foods like San choy bau. Here are some of Bulmer Farms favourite Iceberg lettuce recipes.
Select Iceberg lettuce that is heavy for its size with fresh looking leaves that are firm to touch. Store in your refrigerator crisper. To serve simply rinse and serve either as whole leaves or cut.
Iceberg lettuce is high in fibre, vitamin A, vitamin C and folate. A whole head has as little as 85 kilojoules and a water content of 95%
Bulmer Farms Iceberg lettuce is planted via transplanted seedlings. Iceberg lettuce is cut in the paddock and immediately vacuum cooled, stored in the cool room ready for transport.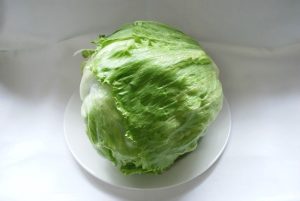 Iceberg lettuce is grown by Bulmer Farms and harvested from Mid-October to Mid-May and is available within these times.