Please contact our Human Resources Advisor –  for a list of current job vacancies.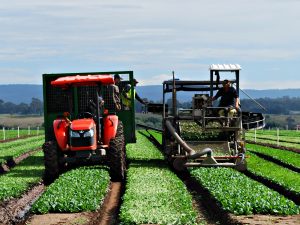 HR@bulmerfarms.com.au
Tractor Operator- Full Time
Production Horticulture Traineeship 2019 – Full Time
We are a large vegetable producer in East Gippsland, delivering high quality, fresh produce to domestic markets and food processors. We are looking for suitable candidates for an apprenticeship in Horticulture.
This wonderful opportunity offers long term career growth for someone with a genuine passion for farming and the outdoors.
We are looking for someone who has an aptitude for study, a willingness to learn, improve and take direction. Has good communication skills and takes pride in their work.
Warehouse Distribution Traineeship 2018 – Full Time
Bulmer Farms are a well-established and highly respected family business who specialise in the growing and distribution of farm fresh salad vegetables.
Bulmer Farms are leaders in their field and have a well establish traineeship program which gives new employees the opportunity to develop highly sought after skills and knowledge whilst gaining a nationally recognised qualification and at the same time earning a weekly wage.
Trainees have the opportunity to use their skills and knowledge gained during their traineeship to progress upwards in the business after completing their qualification.
The Warehouse Operations Trainee, under supervision, is responsible for learning and practicing, in a timely and efficient manner, a range of warehousing duties as required by their Pack Shed Manager and/or Supervisor.
With ongoing support and full training provided, this is an opportunity not to be missed.
Irrigation Infrastructure Manager- Full Time
Do you like irrigation?  Do you understand irrigation infrastructure? Are you able to hit the ground running?  If the answer is YES, we would like to hear from you.
The Irrigation Infrastructure Manager is responsible for planning, supervising and completing irrigation projects for Bulmer Farms.
The role will also be responsible for ongoing maintenance of existing infrastructure, managing and ordering stock requirements, for completing stock takes and live farmer responsibilities.
All irrigation breakdowns and failures will be given immediate priority for repair in light of business continuity.
What we are looking for:
Five years of experience in irrigation infrastructure
Good communication skills
Pride in own work
Continuous improvement mindset
Strong planning and organisation skills
Request A Position Description – Please email hr@bulmerfarms.com.au or phone the Administration Office on (03) 5157 1709 during the hours of 8am to 4pm.
IMPORTANT INFORMATION FOR ALL APPLICANTS
When applying for a position it is important to fully read the Position Description and follow the application instructions as requested.
This will mean you will need to:
Ensure you attach a full version of your resume. 
Attach a cover letter outlining why you are applying for the position and addressing the selection criteria. 
Include the contact details of Three (3) Professional Referees.
If you do not complete all of these requirements, your application may not be considered.
Please forward a covering letter and resume to
Human Resources
Bulmer Farms
30 Bulmers Road
Lindenow, Vic 3865
HR@bulmerfarms.com.au